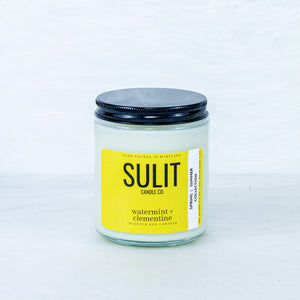 Watermint and Clementine is an invigorating orange citrus fragrant candle enveloped in an herbal bouquet. Its one of our faves!
Scent Profile: Citrus, Basil, Orange Peel, Mint, Chamomile, Agave,Tomato Leaf

Net Wt: 
3.5 oz | 20-30 hours burn time 
7.2 oz | 40-50 hours burn time
What you are getting in our candles?
100% soy wax and paraffin free
Reusable jars (make it cute!) 
Premium fragrance oils that contain no phthalates

100% braided cotton wick to promote clean and even burn
What you are getting in our wax melts?
Wax melts are innovative alternative to enjoy your Sulit Candle Co. scents. The melts are flame free, you need to use a candle warmer to activate amazing scents. These are highly scented and long-lasting, up to 50 hours!
Claims: paraffin free, no phthalates, clean burn, natural, vegan, eco-friendly products, made with you in mind
Customer Reviews
06/02/2021
manoucheca j.

United States
Refreshing
I've purchased this candle multiple times!!! It's so fresh and inviting.
01/11/2021
Mary A.

United States
Love this fresh scent
This is my favorite Sulit candle. Its a wonderful fresh scent. The scent is strong but not overpowering. I received the tea light sample of this candle and will be ordering a full size ASAP.
01/11/2021
Shirley S.

United States
LOVE THIS!!!
I received this as a sample with my order and I couldn't believe that a small tea light would have me thinking twice of my previous purchase. Wow... if you're a fan of a delightful, non overpowering , tropical, citrusy aromas, then this flavor won't disappoint. I really love this scent and I plan on purchasing more. Can't wait to tryout all the other flavors. Sulit Candle Co. has done it again!