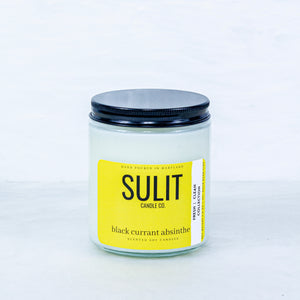 Black Currant is a sensual candle. It begins with light traces of apple and delicate saffron threads. Luscious black currants and blackberries are the core of this candle. Warm base notes of anise and amber surround you in this sophisticated cocktail of a scent. Patchouli and cedarwood essential oils enhance the intensity of the dark fruit in this rich candle.
Scent Profile: Saffron, Apple, Black Currant, Blackberry, Vanilla, Anise, Patchouli, Amber
Net Wt:  
3.5 oz | 30-40 hours burn time
7.2 oz | 40-50 hours burn time
What you are getting in our candles?
100% soy wax and paraffin free
Reusable jars (make it cute!) 
Premium fragrance oils that contain no phthalates

100% braided cotton wick to promote clean and even burn
What you are getting in our wax melts?
Wax melts are innovative alternative to enjoy your Sulit Candle Co. scents. The melts are flame free, you need to use a candle warmer to activate amazing scents. These are highly scented and long-lasting, up to 50 hours!
Claims: paraffin free, no phthalates, no chemicals, clean burn, natural, vegan, eco-friendly products, made with you in mind
Customer Reviews
01/19/2021
Aubrey T.

United States
Beautiful
This candle is gorgeous and warm smelling. It's a perfect backdrop for working from home. I'm impressed with the strength of scent (not overwhelming) and how Sulit candles last!
01/11/2021
Manushka

United States
Smells Like Black Royalty
The black current is the star of this show. This candle smells so rich and comforting. This is the candle you light before special guest arrive for dinner. It's captivating.